This weekend, I bought some garden stuff, like mulch and bonemeal and whatnot. I also bought a chocolate mint plant because they are simply
fabulous.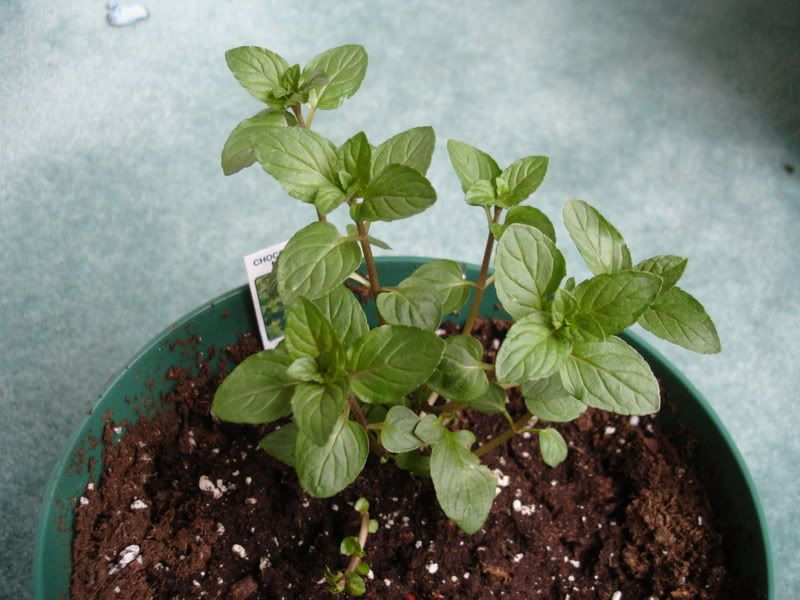 This, of course, made me find one of my favorite stupid repetitive Weebl flash videos~
Who looooves the chocolate? Everyone loves the chocolate! Nobody hates the chocolate 'cos everyone loves the chocolate!
Oh man, people who like juvenile things like Weebl's Toons need help. Anyway, that pot will be the mint's permanent home-- no mints are allowed to be in the ground in the garden because of previous past bad behavior by mints around the world.
But that was Saturday. Today is Monday. I have done nothing between the time I got and repotted the CHOCCYmint and today. SOOoo today I:
-Planted some new seeds that I bought over the weekend
-Repotted some plants that needed repotting
-Killed one of my sunflowers :(
Starting from the top~ I got Lavender Lady lavender because I really really want to grow lavender and one variety seems inadequate, especially since it has not sprouted yet. I also got chervil, four o'clocks, and a couple more kinds of squash and cucumber. I also got a couple mesclun mixes and a mixed lettuce mix. I am very much looking forward to cut and come again salads. Mmm :9 I also planted some of the mystery beans, peppers, and random seeds that my neighbor gave to me.
I repotted the parsley that finally sprouted and repotted some lettuce. The latter was probably a mistake, but that is okay-- I have plenty of lettuce to make up for it. The lemon basil in the egg carton was starting to die, so I moved it into a cup. I should have moved it sooner, but I was sort of waiting for more to sprout before moving it to a bigger container. Whoops?
Aaand the sunflower. I accidentally popped into his stem with my thumbnail. I felt so bad because he was the tallest one of the lot. It honestly feels like I murdered a child.
Oh, but I do have pictures of happier things :D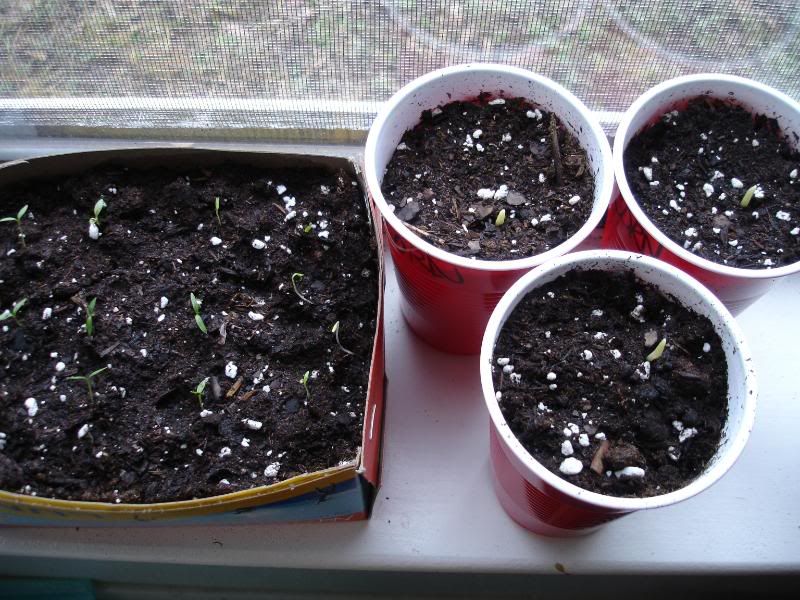 Parsley in a box and corn babies! The corn is just for kicks-- I sort of don't expect it to survive the transplant into the garden.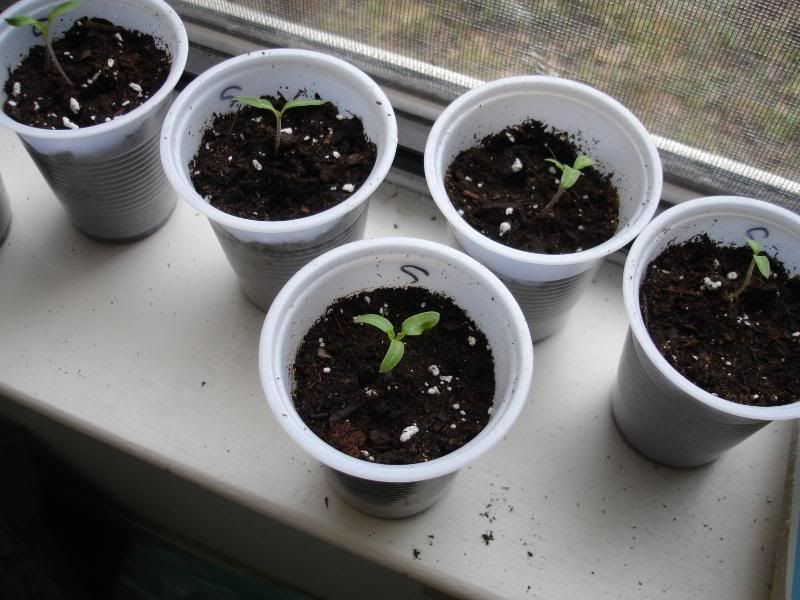 Mystery nightshades! I am pretty sure that the 3-cotyledoned guy is a pepper of some sort since all of my tomatoes have 2.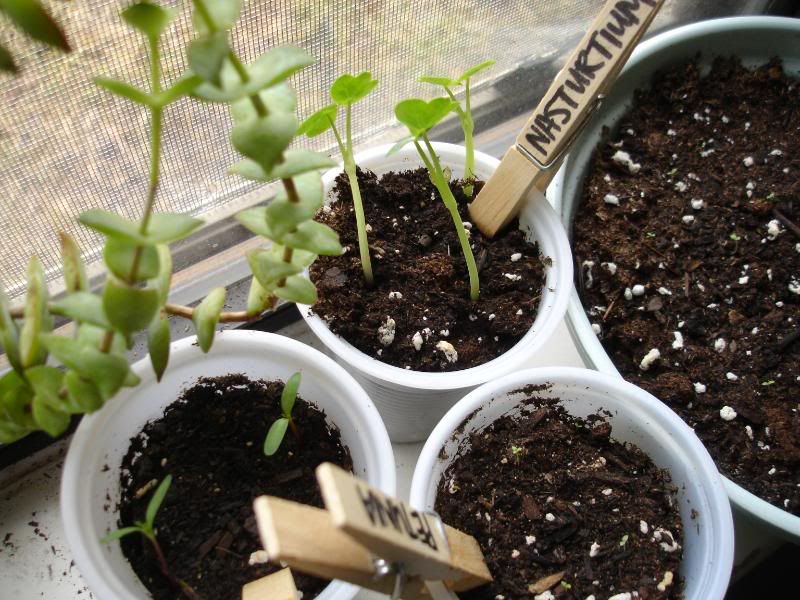 Nasturtiums and marigolds are growing, and you might be able to see tiiiiiny petunias.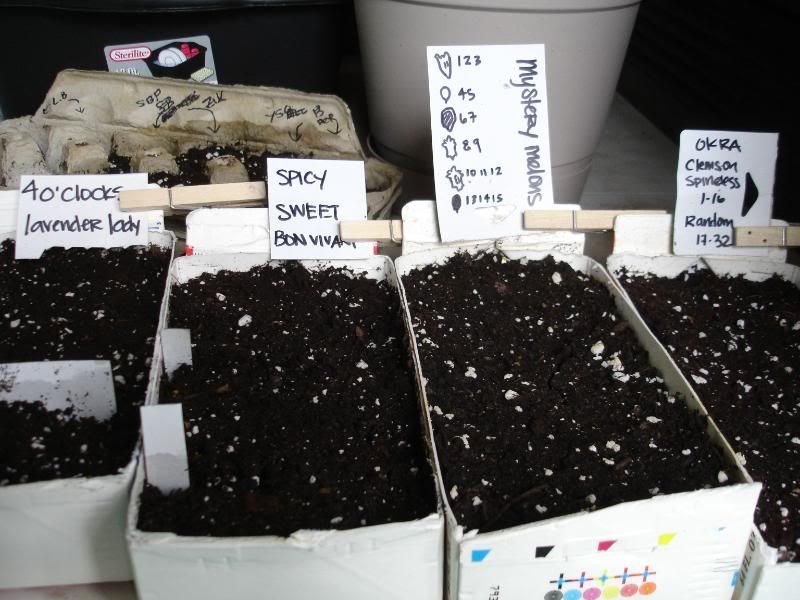 Flowers, salad mixes, mystery melons, and okra.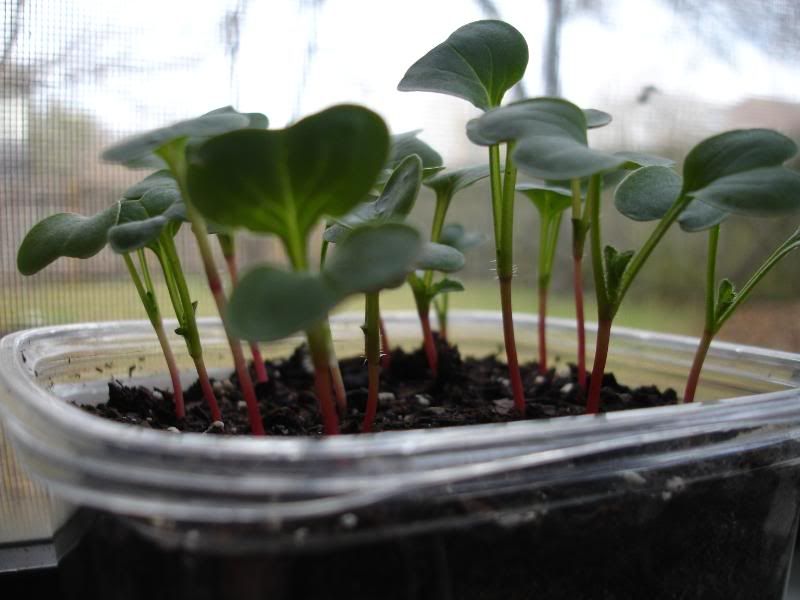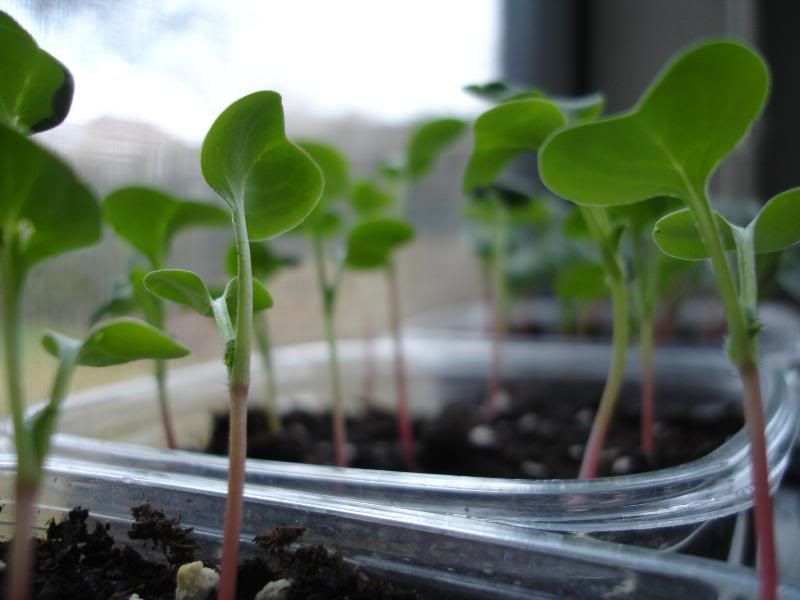 Radish sprouts are beautiful-- I had to take a bunch of pictures of them. I love their slender pinkish stalks and fat green leaves. It makes me happy.
It rained like whoa today and while all the water eventually sunk into the ground I noticed that it tends to pool right next to the patio. Because of this I designed my garden border to avoid the patio, but I am wondering how much distance I really need to put between the garden and the patio so that it won't flood during the rains.
Anyway, I don't have anything else meaningful to add today.