Friday. Gorgeous, gorgeous Friday. It's a bit windy, but the sun is shining, the sky has cute little white puffs rolling about, and the temperature is cool but not cold. What a day to be outside and not indoors updating the blog! I never said that I play by the rules.
Today's work will be dedicated to clearing the evil black walnut bits that are strewn about the yard. Luckily they're nowhere near where my garden will be, but they still need to be taken care of. That, and the porch is a mess. My mom had commented on it being sort of
kitanai
when she saw it. She always says that word with such disdain, clipping the first syllable and dragging out the
naaaaai
. Japanese hate dirt.
Anyway, my mom also commented that cucumbers, okra, and beans are fun to grow. "Bean plants," she said, "make lots of flowers, and every flower becomes beans." And she said that she loves growing okra because "the more you pick it, the more that comes back." And then cucumbers she just adores, but she told me that she had a bad experience when she first tried to grow them in America. She lived in Panama Beach, Florida and she assumed that since stuff just grows in any old Tokyo soils if dropped on the ground and watered that it would work the same at her trailer in Florida. "The cucumbers grew an inch tall, sprouted flowers, and died. I was so sad." She urged me not to grow things that are cheap at the supermarket but to instead focus on tomatoes, basils, beans, etc. I assured her that I had plenty, although I didn't mention that I currently have some 15 Gardener's Delight, 33 large red cherry, and unknown numbers of beefsteak and random heirlooms that I just seeded last weekend. I did say that I was growing 5 different kinds of basil. She told me that she had tons of basil last year but since my dad is always working or is away on business that she has nobody to cook it for, so she just let it grow, flower, and die in the cold Ohio winter. I told her to get some
shiso
, which I think is called perilla or beefsteak plant, since that is her favorite Japanese herb. I also told her to freeze her herbs, but I guess that wouldn't solve the problem of nobody eating them.
Even though she is in Florida today, she told me that back home in Dayton there is something like 6 inches of snow on the ground. She's not looking forward to going back.
Anyway, to the photos! I have a little progress evident. The Gardener's Delight tomatoes are starting to grow their first set of real leaves, the large red cherries are starting to bud theirs. Beans are also growing their first set of leaves. I have some marigolds on the way while the nasturtiums and petunias are barely peeking above the soil.
Tomatoes! w00t.
Genovese, sweet, and cinnamon basil on the way. They're doing pretty well-- you can just see their first real leaves starting to bud.
Beans! The cotyledons seem to be drying at the edges and dying, but the real leaves that are sprouting seem fine. I won't worry unless the real leaves look bad, too.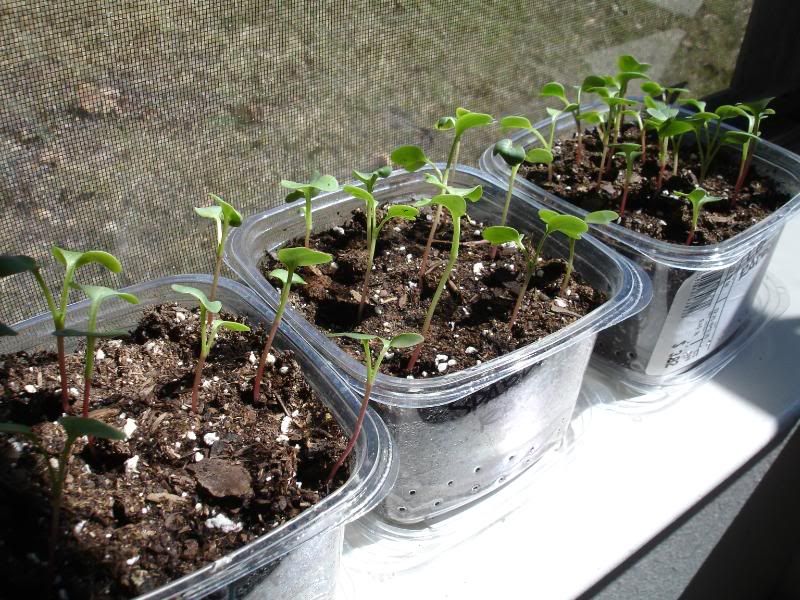 Radishes! Growing like weeds. I may have to thin them out soon.
These are French marigolds of some sort I think-- too lazy to run down and check. They also seem to be doing well and will need thinning out soon.
Dill and mystery plants on a roll still!
Sunflowers grow amazingly
fast
. I'm surprised. This picture reminds me that I need to move them to a different window.
And now for the outside guys--
Peas! They seem happy. Happy peas. Peas and happiness? Love and peas!
Buckets of basils, spinach, and mustard. I should thin the mustards.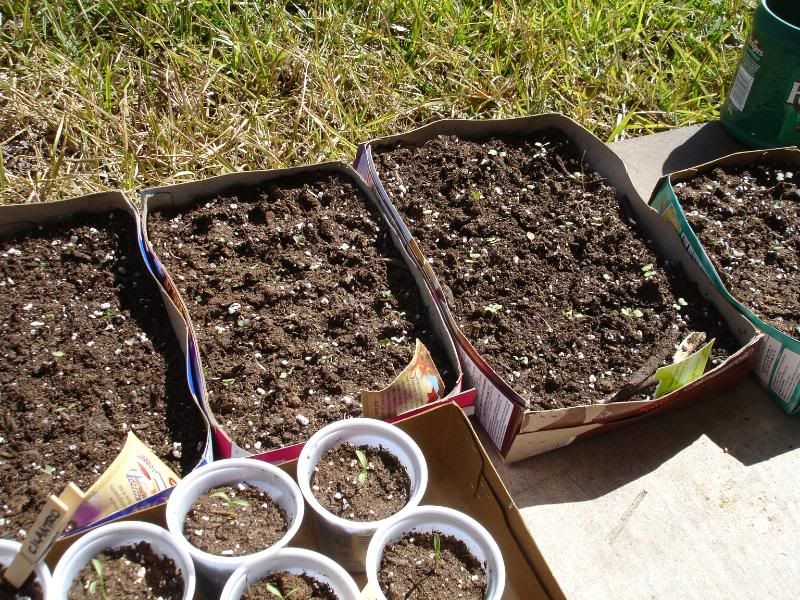 Boxes 'o
brassicas
. I have cauliflower, broccoli, and turnips there. They probably don't enjoy the small boxes but they will do until I can find something deeper to house them all. I doubt that I will keep this many to grow to full size, but I know that their shoots are good eatin'.
Boxes 'o beets! They are not happy to be there! They didn't do so well on the move, as is evidenced in this next photo.
Mowr. Lying down on the job, poor things. I just hope I can sort of keep them alive-- I love beets. If anything else I'll just eat the shoots.